Jawbreaker is our hottest sauce yet. Bottled in elegant 200 mL flasks and made in a limited edition batch these sauce bottles will likely become collector's items. Crafted with our secret hot pepper smoking method, Jaw Breaker is a true Carolina Reaper hot sauce, no other peppers are used except Reapers -  balanced with a meaty garlic punch, this is a full flavoured sauce that kicks like a mule!
Jaw breaker is not for the faint hearted - this sauce is complex, hot and extremely delicious for high heat hot sauce lovers.

Jaw breaker is your go-to for spicing up breakfast, lunch, dinner and everything in between, crank up the heat to your burgers, steaks, seafood, pasta or wood fired pizza while adding a zingy garlic twist - make this your new secret ingredient for any cuisine or recipe. 
Old Bones Jaw Breaker Hot Sauce is made and bottled by hand. 
🥇 1st Place Hot Sauce (All Natural XXX Hot) - Scovie Awards 2023 
🥇 1st Place People's Choice Pepper Sauce: Austin Hot Sauce Festival 2023
🥇1st Place Hot Sauce (Extra Hot) - Saucetown Hot Sauce Awards 2022
🥈2nd Place Hot Sauce (Hot) - Saucetown Hot Sauce Awards 2023
🥉 3rd Place Commercial Bottlers Pepper Sauce: Austin Hot Sauce Festival 2023 
🥉 3rd Place Reaper Sauce: Screaming Mi Mi Award - NYC Hot Sauce Expo 2023 
🥉 3rd Place Best Pepper Sauce  - Austin Hot Sauce Festival 2022
 Vegan. Gluten Free. Made in USA.
INGREDIENTS: Carolina Reaper Peppers, Vinegar, Garlic, Water, Sugar, Salt.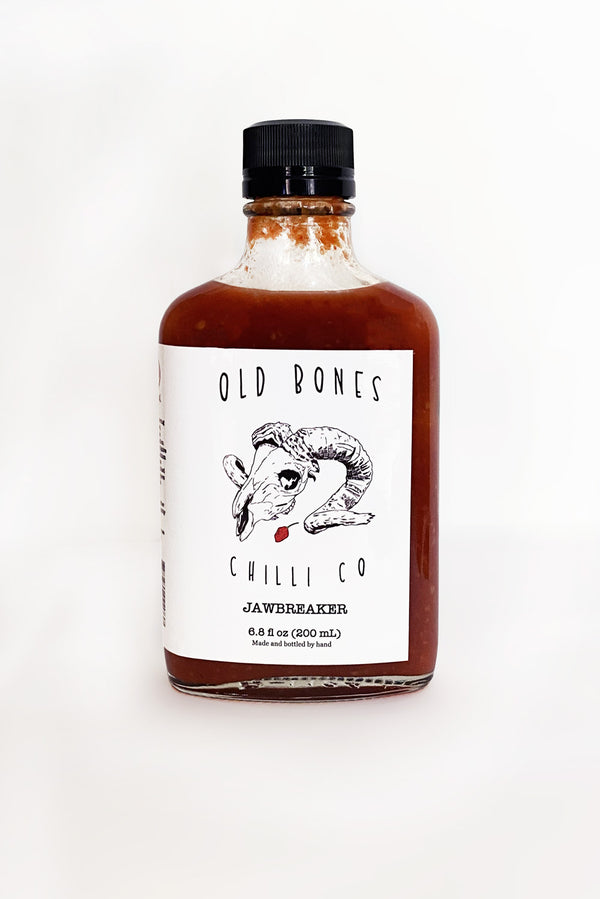 Customer Reviews
02/28/2023
Julie W.

Australia
Very Hot, So Tasty!
For work and fun I travel all over the country and am always on the lookout for a good hot sauce for one of my brothers-in-law and nephews. While I bought multiple sauces at your booth (at San Antonio Rodeo), the one I bought for each of them was the Jawbreaker and let me tell you it did not disappoint. They both loved it and said it was their favorite, very hot and so tasty. There are already plans to order more to share with others.
02/26/2023
Ryan

United States
Amazing Deep Burn
This hot sauce has such a deep burn that manages to warm the soul without burning off your taste buds. Don't get me wrong, it's insanely hot, but not like ruin your day hot. It teeters the line between insane heat and euphoric burn. In fact, as i write this, my soul is warmed and the endorphins are flooding. The taste too - i didn't think it was possible to pair such heat with such awesome flavor. The garlic packs a strong punch with a very subtle sweetness. As a big-time hot sauce guy, this just made the #1 spot on my roster.
09/15/2022
Seaton L.

United States
THE perfect hot sauce
Hey ya'll, I just wanna tell you guys that I think your Jawbreaker sauce is THE perfect hot sauce. Perfect flavor, perfect heat. Seriously. It's perfect. I've had hundreds of hot sauces over the years but ya'll win by a long shot! I can't go a meal without it.