Kick it up a notch with The Hotter Gift Pack, the perfect gift for the chilli head that's looking for a bit of spice! Just like a slap across the face, this one is gonna burn. Get 10% off by purchasing this bundling deal rather than buying the individual items!. The Hotter Bundle features: 

1 x 200mL Smoked Garlic Chilli Sauce EXTRA HOT
Perfectly balanced with a meaty garlic punch, this is a full flavoured sauce with an extra bite. Your one stop shop to spicing up breakfast, lunch, dinner and everything in between, crank up the heat, add a zingy garlic twist and make this your new secret ingredient for any cuisine or recipe. 
1 x 170g Chilli Churri HOT
Inspired by traditional Argentinian 'red chimmi-churri', tantalise ya tastebuds with 170g of smokey, spicy goodness with the meaty garlic punch you know and love. Chuck it on a juicy rib eye, toss it through your veggies, pimp your rice, use it as a marinade or mix it with soy for an A+ accessory to your dumplings - the options are endless.
1 x 150g Smoked Habanero Salt
Whether you're spicing up some roasted veggies, finishing meat and seafood or salting a cheeky cocktail rim, OB chilli salt is perfectly balanced to give your dishes a nice punch without blowing your face off. 
Vegan. Gluten Free. 
* Please add your personalised message in the Notes at Checkout.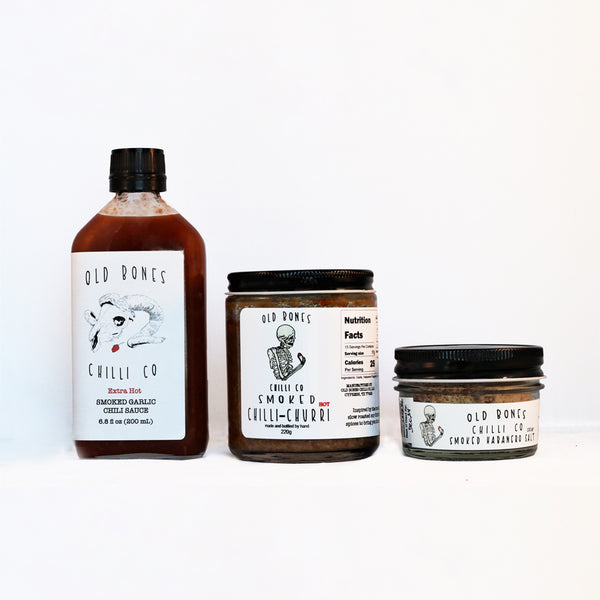 Customer Reviews
Hotter bundle
Great delivery was on time and the sauce and salt is excellent
05/19/2021
JB

Australia
Hot Heaven
I've brought these twice as gifts as I enjoyed mine so much. Such an amazing flavor! Best thing ever to have with steak (and almost everything else). :)
03/24/2021
Dylan c.

Australia
Bloody beautiful
I bought these for.my partner and she absolutely loved them will definitely buy again and recommend